So the K10 was at SHOT this year. With a lot of revisions.
I had a wonderful chat with Reuven of KRISS ARMS. He is one of the Swiss reps. He is a shooter and he and I got along famously. I had video taped the interview, with his verbal permission, but the head of communications nixed that recording and made me delete it. They are very careful about controlling the information that is released. Almost to the point that hardly ANY information is released.
Aside from their company policy, what Reuven shared with me was fantastic.
One of the biggest concerns I had, when I saw the K10 back in 2011 and subsequent image releases in the past year, was how does the K10 release the bolt after the last round is fired? Well there is a big button under the foregrip right behind the picatinny rail. The idea behind this is that when you insert a fresh mag, you sweep your hand up as you grab the mag well and your hand will hit the bolt release to chamber a round. It definitely will make things faster. IWI's TAVOR SAR has a similar design to their bolt release. As you insert a new mag, your hand can ride up and hit an oversized bolt release button. Another point Reuven made was that even if you have vertical grip, you can just reach up with your thumb and release the bolt. A great improvement over the Vector design. I don't know if any of you have tried to operate the Vector left handed, but releasing the bolt with your left hand still on fire control is a little difficult to operate.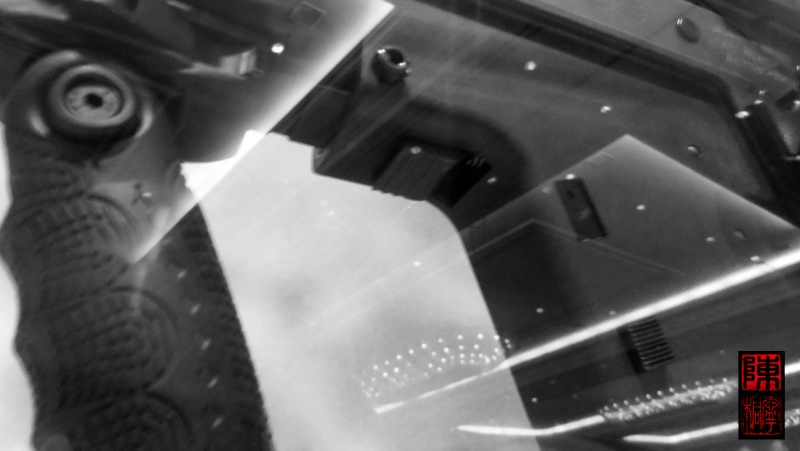 Now one point I brought up with Reuven, was the need to have a bolt catch button. Right now in this current version, the button only releases the bolt. There is no means to actively lock the bolt back without an empty magazine. With the Vector, you just rack the charging handle back and flex your index finger and you can lock the bolt back with speed. They are looking into it. One concern I have is that racking the charging handle while simultaneously trying to lock the bolt back will require both hands to be removed from fire control.
Another revision is the charging handle and the safety selector switch.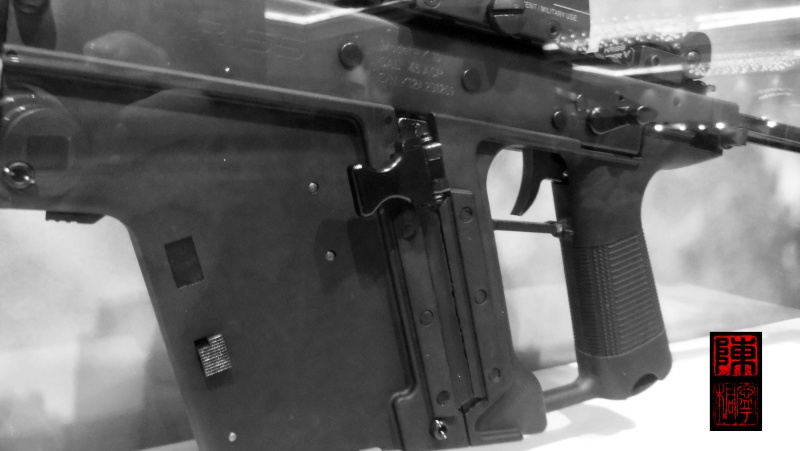 The charging handle is no longer a rigid cylinder. But a folding charging handle. It is ambidextrous. I believe the switch from left to right or vice versa is similar to my SCAR 17. you remove the slider assembly and just pull the charging handle out and reinsert on the opposite side.
The safety selector was designed from a competition point of view, according to Reuven. As many of you know, the Vector safety has a large 90 degree throw and is somewhat cumbersome to activate with just the thumb. The K10 safety is similar to a 1911. It has been enlarged for use with gloves and has a shorter travel from Safe to Fire.
Thee are some ideas about different stocks for different applications. Such as a shot stock for CQB with a curvature to ease shouldering it. Another option will be similar to the Vector SDP but with added QD sling points on the sides as well as the back for a push sling.
On top of the K10 SBR/SMG, a Carbine model was shown at the KRISS booth. It reminds me of the Vector carbine prototype.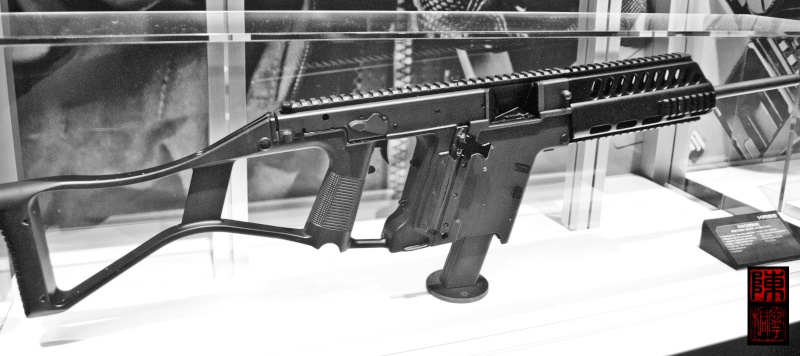 Look closely you will see sling points remarkably similar to my Vector modification. Great minds think alike.
I was able to confirm that these BUIS, shown at the IWA show last year, are in fact the prototype BUIS for the K10. Reuven said that when using the Vector as a pistol, no stock, the iron sights are not a good design for fast sight alignment and target acquisition. They are great for a shoulder firearm, but not hand held. So they are revisiting the design of the early production Magpul MBUS. Where when folded down, there is a pistol sight but you can flip them up for better accuracy when shouldered. There will be a fiber optic for the front sight. He says the designs come from competitive shooting. He wants this gun to be like a race gun. Purposely built for speed.
http://www.krisstalk.com/t132-k10-at-iwa-in-germany-2012
i just recalled another detail.

For the Vector you constantly need to re-tighten the suppressor.

The K10 will be designed in a similar manner to an Uzi, at least that is what I was told. Some sort of ratcheting attachment for the suppressor so that it remains locked in place and no re-tightening is required.
There new line-up is amazing. Seeing it first hand here at SHOT 2013 is great. Everyone's talking about the Sig MPX, but I know hands down that the new KRISS line-ups will handle so much better.

DemskeetSkeet




Posts

: 40


Join date

: 2012-10-10



solscud you have exquisite firearm taste! That tavor is slick looking, I have been itching to round out my collection with a 9mm carbine. I pray they make a cali gimped version!!! whats the word on the release of this thing?

Dtalon03




Posts

: 14


Join date

: 2012-09-09



What was their timeline on this?

_________________
FNH FS2000
Kriss V CRB
XDM9 CPT
XDS
Tavor FDE

Kipp




Posts

: 158


Join date

: 2012-12-18


Location

: Illinois



Kipp wrote:What was their timeline on this?
They were optimistic for this year.

DemskeetSkeet




Posts

: 40


Join date

: 2012-10-10



places like knesek have been taking orders on the Tavor. Expected delivery, some time in March

Kipp




Posts

: 158


Join date

: 2012-12-18


Location

: Illinois




oshuwah




Posts

: 15


Join date

: 2012-12-18



oshuwah wrote:What Caliber is the K10?
Not sure. They say 45 acp. But plans for user capable caliber coversions into 40 S&W.
---
Permissions in this forum:
You
cannot
reply to topics in this forum